Contact Us
For more information,
feel free to contact us at: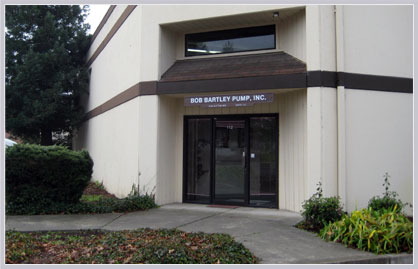 Bob Bartley Pump, Inc.
Warehouse Location:
3100 Dutton Avenue
Suite 112
Santa Rosa, CA 95407

(707) 526-5300 (warehouse number)
(707) 279-2304 (office number)

We are open at the warehouse Monday-Friday, 7:30 a.m. to 4:00 p.m. Office hours are Monday - Friday, 7:30 a.m. to 5:00 p.m. Please call us to place an order or track a shipment.
email us at:
info@bobbartleypump.com
Warehouse Location:
Our warehouse is located off Highway 101 at the Hearn Avenue exit in Santa Rosa, CA. In the right lane, turn on Corby Avenue to the left lane to make a left turn on Hearn Avenue then left at the first intersection on Dowd Drive down several blocks to the end to Belvue Avenue then turn right. We are on the left side of the street accross from C & G Auto Body. Click here to get Google driving directions!